about
At West Coast Exotic Cars, we pride ourselves on giving each and every one of our vehicles the same level of care and expertise to offer our clients only the best of the best. If you choose to sell your car with us, we handle everything in the selling process from start to finish!
From Delivery/Pick Up, Service, Photography, Videography, Detailing, Advertising, Vehicle Storage, Negotiation, and financing - we go above and beyond to ensure that our inventory and customer experience is a cut above the rest. Check out this glimpse of our meticulous prep process and see why WCEC is the place to buy or sell your vehicle!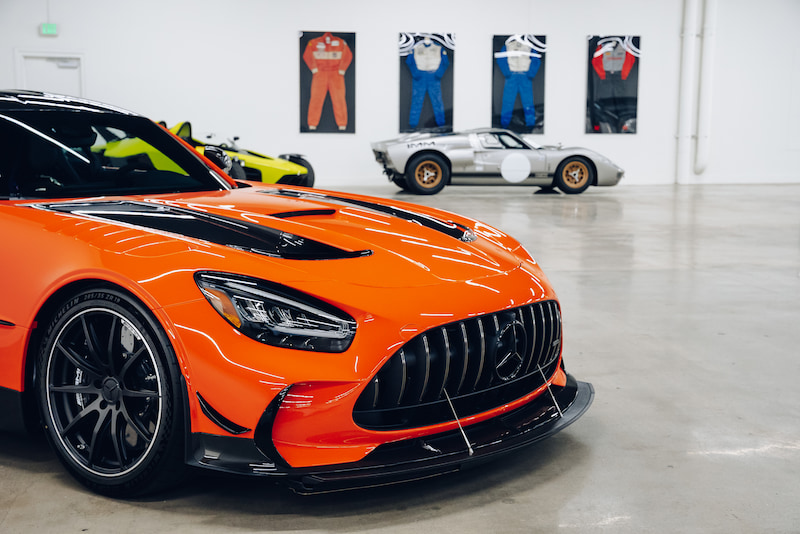 Sell
YOUR CAR
With west coast

Make the deal
Reach out to one of our professional car buyers.
WE HANDLE TRANSPORT
We can facilitate pick-up or transportation of your car
GET PAID QUICKLY
We can write you a check same day or pay off your loan to get you paid FAST!
Excellent overall experience. I had difficulty at the registry in Massachusetts, no surprise to those who live here, but Hunter was incredibly efficient at helping me overcome the obstacle. I should point out that this was not West Coast Exotics fault, the registry in Massachusetts is notorious for creating trouble where none exists. Very grateful for his help as well as Eric's input. Highly recommend. The car is fabulous and the purchase price was reasonable.

I searched all over for my perfect AMG GT, living in Northern California ( Bay Area) I felt my options were very limited and my experiences were not the best, typical sales Guys trying to push me to buy a different color or different car. I worked with Aaron at West coast Exotics and my experience was the best. He was very reponsive and not your typical car salesman, super cool down to earth guy. I was promised the car to be in mint condition and indeed it was , it looked brand new. I bought a one way plane ticket and was picked up by Aaron in a sick neon green 4x4 AMG G wagon, went to the their dealership with a very smooth and easy purchasing process and drove my car home . Best experience , will go back to Aaron and the folks at West Coast Exotic cars for making it such a great experience.

Purchased a 2023 Z06 corvette! Blake Warren was my contact. I had another deal in the works but West Coast met the other offer and the West Coast car had...

I am lost for words. On Thursday I received a Carroll Shelby 2007 Mustang GT500 delivered at 9PM CST. It even had the original car covers and Carroll Shelby...

I recently had the pleasure of purchasing an Audi Quattro Plus through Aaron Johnson, and I must say that the entire process was nothing short of exceptional. What made it even more remarkable was the fact that I never had the opportunity to visit West Coast Exotic Cars or meet Aaron in person. Despite this, Aaron's commitment to providing outstanding service and his exceptional expertise made the entire experience effortless and enjoyable.From the moment I contacted Aaron over the phone, he exuded professionalism and a genuine passion for his work. He took the time to understand my preferences, requirements, and budget, ensuring that he could find the perfect Audi Quattro Plus for me.Despite not physically visiting the dealership, Aaron ensured that the car-buying process was seamless. He handled all the necessary paperwork efficiently and accurately, making it incredibly convenient for me. Furthermore, his expertise in coordinating the delivery of the Audi Quattro Plus to my house was impressive. The vehicle arrived in pristine condition.I cannot emphasize enough how grateful I am for Aaron's dedication and commitment throughout this entire experience. His professionalism, knowledge, and exceptional customer service truly set him apart. Thanks to his guidance and expertise, I am now the proud owner of an Audi Quattro Plus and couldn't be happier.If you're considering purchasing a vehicle, I highly recommend reaching out to Aaron. Whether you visit the dealership or choose to buy remotely like I did, you can trust that Aaron will make the process smooth, convenient, and enjoyable. His outstanding service and commitment to customer satisfaction are truly commendable.Thank you, Aaron, for providing me with an effortless car buying experience and for going above and beyond to ensure my satisfaction. You've earned a customer for life, and I will gladly recommend you to anyone in search of a new vehicle.

Aaron was a pleasure to work with! He made my online purchase a breeze. My initial concern was buying a black car sight unsee. Aaron sent videos of the...

I had a great experience with West Coast Exotics. Hunter was a pleasure to deal, very responsive, up-front and transparent which I really appreciated. While at the store, I met the owner, Eric who really has a passion for the business. He has built up a great team with a first class facility and I had a terrific experience. I would highly recommend the dealership to anyone looking to buy or sell a special car.

I had a great experience with West Coast Exotics. Hunter was a pleasure to deal, very responsive, up-front and transparent which I really appreciated....

Fine cars,real head turners in a huge building.really amazing place.hunter is the man to see, for the best cars in California.

We buy a lot of vehicles and have dealt with a lot of different dealerships. West Coast Exotic is by far the best in the industry. The made the car buying experience seamless. Our car was waiting for us cleaned and ready to go when we walked through the doors. Hunter treated us like he has known us for years, even though it was the first time we met face to face. He was humble and kind, and that is hard to find today, especially in the exotic car world. Thank you to Hunter and West Coast Exotic Cars, we love our new ride and can't wait to buy another one from you!

Baking a local to Temecula where these guys are located I would always see the nice cars outside and thought about going in one day. Thank God I recently...

Great customer service support!! Even the deal didn't work out, but big thanks to Aaron and owner for helping me with everything they could. Best customer...